Changing your first name: procedure, costs and our successful approach
Did your birth registration include a spelling error in your first name or not include your second first name? Would you like to change your first name or add an additional first name in memory of a loved one?
We understand your desire to change your first name or add one to it. As a well-regarded law firm with good client experience and reviews, we can help.
We work for all courts in the Netherlands.
The application process for a first name change has six clear steps:
Free introduction with our firm, where we discuss your change request.
We will submit to you a a draft version of the petition for change of first name.
After your approval, the petition goes to the court.
The court reviews the request and we notify you of the ruling.
With a favorable ruling, after three months, the court forwards the decision to the municipality to attach a change of first name behind the birth certificate.
Done: your first name has been changed.
Free consultation: do you qualify for a first name change?
We now provide a free consultation where we consider whether you may qualify for a first name change based on your personal situation.
Remote advice via video conferencing
If you live outside the Utrecht or Amsterdam region or even abroad, we realize it is not always possible to make an appointment at our office. This is not a problem. Through a secure connection, you can complete calls to our lawyers. It doesn't matter where you are, all you need is internet access.
Would you like to make an appointment or find out more?
Want to learn about changing a first name or save as a PDF?
Click the button below to download the digital information pamphlet.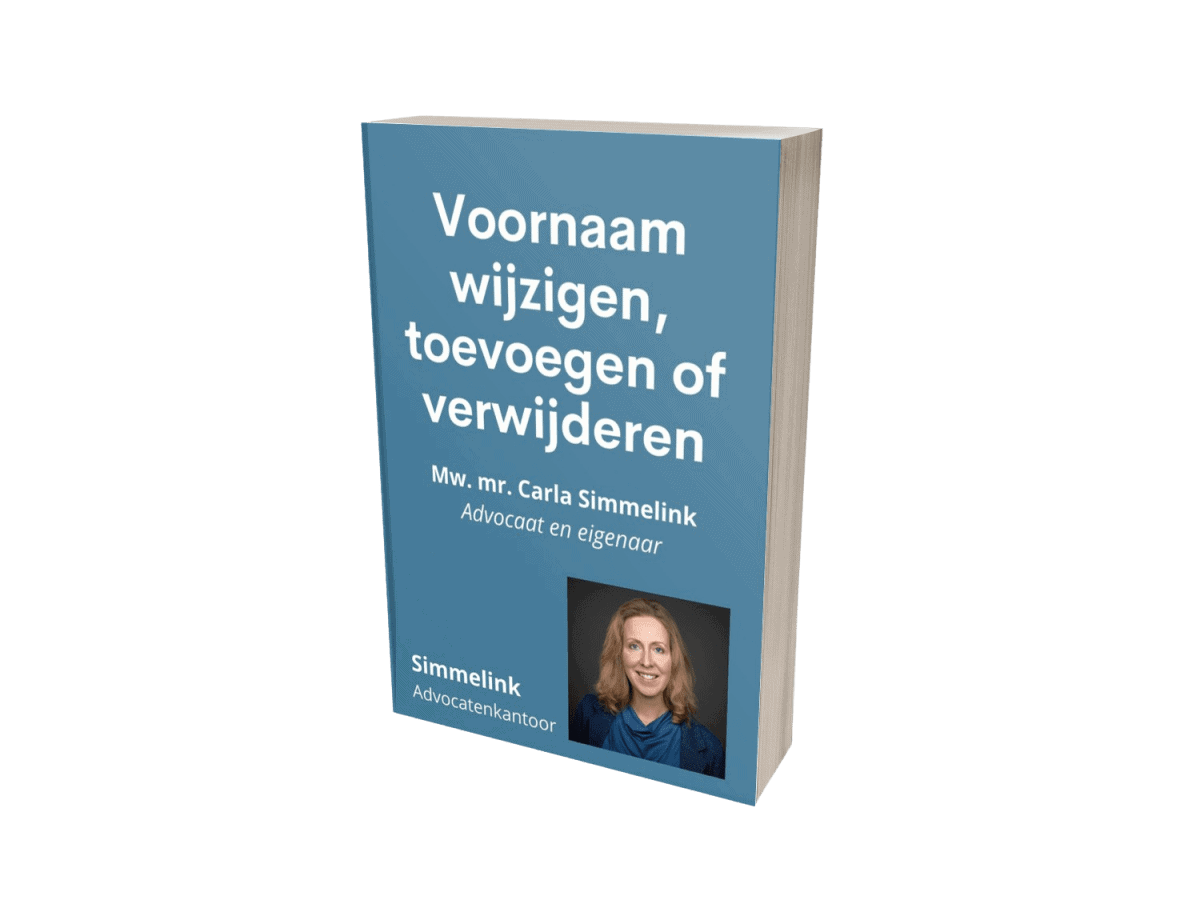 Reviews: what our clients think
Our clients are relieved after a successful first name change or alteration. We often hear that they should have taken the step much earlier.
Below are the experiences of two clients after changing their first names with us. You can read more experiences from our clients on our review page.
For a first name change, I was looking for a attorney at law. Through Google, I came in contact with law firm Simmelink. Despite this difficult time, the phone contact was super, I felt seen and understood. It seemed impossible to have my first name changed as unfortunately I did not have two important documents: Birth Certificate and the Notice of Dutch Citizenship. I had almost given up but Simmelink attorney at law did everything I could and made it work. Today I not only feel like Madalena Mataya but I can actually call myself that. Thank you very much Simmelink Advocaat.
Madalena Mataya J.
Mrs. Simmelink arranged our little son's first name change for us. We are very happy with the result and very satisfied. From the beginning, Ms. Simmelink was always easily accessible, transparent, clear and helpful. Throughout the process, we were always kept nicely informed of how things were going. She is very knowledgeable in her craft and we can only recommend her.
Eefje S.
[brb_collection id="14873″]
Reasons for changing a first name
In memory of a family member or loved one
You would like to change or add a first name to honor someone special to you. This can include a dear family member such as a grandfather, grandmother, father or mother, or a beloved nickname from a loved one.
Psychological hindrance or suffering
Your first name brings up unpleasant memories from the past. This could include the family you grew up in or another situation that evokes traumatic memories for you. Maybe you expect your child's name will be a source of bullying in the future. You may have experienced bullying in the past, at school or work.
Cultural origin or foreign first name
Your first name was a common first name in your country of birth, but it is not appropriate in the Netherlands because the name has a different meaning or is consistently mispronounced.
X status in intersex or nonbinary persons
Intersex or non-binary individuals who wish to obtain x status can change their first name to one that is more appropriate.
Incorrect birth declaration
The declaration of birth did not go well. For example, a first name was overlooked or a spelling error was made on the birth certificate.
Personal and emotional identification
The first name obtained from your parents does not suit you or you are named after a relative or acquaintance with whom you have nothing in common or do not even know.
Faith
A first name does not fit with a new faith you have adopted.
After adoption
You are adopted and have a foreign or Dutch first name that does not suit you.
First name does not match married surname
You are getting married and want to adopt your future spouse's surname, but your first name does not match the surname.
To prepare a petition for a change of first name, you need an attorney at law.
Adding, changing or deleting one or more first names requires a court order. You will need an attorney at law to complete the process. On your behalf, the attorney at law may ask the court in a petition to add, change or remove one or more first names.
Based on the petition, the judge makes a decision on whether there is a good reason to change the first name. For the judge, your motivation for changing your first name is very important. Therefore, it is important that your attorney at law carefully articulates your reasons to make the proper argument.
Want to make an appointment or learn more?
An initial intake interview and evaluation of your case is always free of charge. We will discuss your situation, the different ways how we can help and assist you and give an indication of the costs. You will not encounter any unpleasant surprises afterwards.
How much does changing a first name cost?
To change your first name in the Netherlands, the petition requires a fee that the court considers to cover the name change as a whole. The fee is not calculated per letter or per word.
The fee for the change is a flat rate. The attorney at law's fee, including the intake interview, preparation and filing of the application, costs €899 (including VAT).
We have a proven procedure and great success with requested first name changes. An additional advantage is that we can apply for a change of first name in any court in the Netherlands. The court we file with is determined by where you live.
Please read our positive reviews by clients who have gone before you. Feel free to contact us to start the process or learn more. During our conversation, we can assess the feasibility of your wishes.
Addition (subsidized legal aid)
The government(Legal Aid Board) only rarely (and, as far as we are concerned, unfairly) provides an addition (subsidized legal aid).
An addition is granted for a first name change when there is sufficient interest. This is when there is "demonstrable interference with social functioning." The Legal Aid Board assumes that there is a demonstrable hindrance to social functioning if the litigant has been receiving treatment for this for some time from an expert care provider, such as a psychologist or psychiatrist.
How long does the first name change procedure take?
Changing your first name anywhere from two to six months and depends on the court where your name change request is filed. The procedure for a first name change consists of six steps.
The timeline for each step is approximated as follows:
Within a week, you will have an intake meeting with the attorney at law. During this conversation, we will discuss your reason and motivation for the change.
Within two weeks, the petition to change a first name is ready and we send it to the court. When drafting the petition, we incorporate the reason for the change so that we can properly include the court in it and they can put themselves in your situation.
A judge's ruling typically follows within two months.*
More than three months after the ruling, the change is final. The appeal period is three months and this must pass the municipality can process the change.
The new first name is processed in the municipality's civil registry and is thus officially changed.
Now you may apply for a new identity card, new passport and new driver's license with the new first name on it!
*One of the aspects that determines the length of the first name change is that in certain courts, an opinion is sought from the district attorney and/or the municipality where the birth certificate is located. If a Dutch birth certificate is missing, which is necessary to implement a changed first name, the process takes longer. A foreign birth certificate must then be converted or a replacement birth certificate can be requested within the first name change procedure.
Six easy steps to change a first name
Changing a first name is a straightforward process consisting of six steps. We want you to know exactly what to expect and follow along with your first name change process.

Step 1: intake interview
The intake interview is non-binding and free of charge. We will discuss your reason for wanting to change your first name.
To save travel time and costs, the introductory meeting can be by phone, email or video call. In this way, you can save travel time and costs. Of course, you are also welcome to visit our office in Maarssen (Utrecht) or Amsterdam.
Step 2: drafting the petition
We prepare the petition that contains the rationale for the desired change. This may be a change, addition or deletion of one or more first names.
Then, we send the petition to you in draft form for additions or changes. It is important to ensure that the desired first name is written flawlessly and that all reasoning is worded correctly.
Step 3: File an application with the court
After you approve the petition, we send the petition to the court.
A recent copy of your birth certificate, not older than three months, shall be attached to the petition. If you were born abroad, an original birth certificate will suffice. If the birth certificate has not been converted to a Dutch certificate, this can be requested from the court in the same first name change procedure. You can also choose to do this yourself at the Hague municipality. For more information, see the Hague City Council website. If you do not have a birth certificate or you cannot obtain one because you cannot return to your native country, a replacement birth certificate may be requested in addition to a request for a first name change.
Step 4: court review
The court assesses whether the request meets the requirements and is based on sound reasoning.
The pronouncement of a first name change is usually in writing, without a hearing. This means that you do not have to come to court for an oral hearing.
With this, the assignment of the new first name is not yet official. First, the statutory three-month period to appeal must be waited.
Step 5: change birth certificate and update BRP
After the statutory three-month period has passed, the court sends the ruling to the municipality where your birth certificate is located. If you were born abroad, the ruling will be sent to the municipality of The Hague.
Next, the registrar adds the record of the changed first name behind the original birth certificate and for people living in the Netherlands, enters the changes in the Basic Registration of Persons (BRP). Government organizations connected to the BRP receive the changes automatically. Your bank, insurance company and other agencies, such as your workplace and sports club, will require an update from you.
Your first name is officially changed once it is added to your birth certificate by the municipality.
Step 6: the new first name is official
Renew passport, ID card and driver's license
With the official assignment of your new first name, you will need a new passport, ID card or driver's license. You can request these documents when your name change is processed in the Basic Registration of Persons (BRP).
After the name change, your old IDs are no longer valid.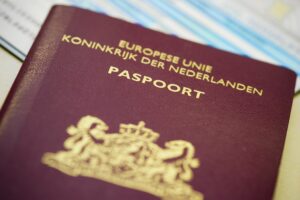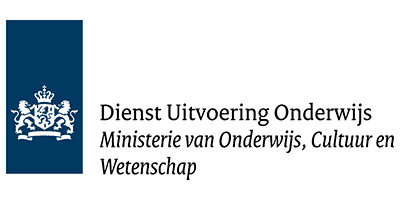 Request a replacement diploma with your official first name
With the official assignment of your new first name, you have the option to request a replacement copy of your diploma, certificate or grade transcripts with your new first name on it. However, the options depend on the type of degree.
You can request a replacement diploma from the Department of Education (DUO).
Frequently asked questions (FAQ)
Here you will find frequently asked questions from clients about first name changes.
How much does changing the first name cost per letter?
Can I change my first name if I live abroad or was born abroad?
If you were born abroad and you live in the Netherlands, in many cases it is possible to have your first name changed.
Your request for a change of first name will be sent to the Hague District Court. If the judge rules in favor, the written ruling will be sent to the Hague municipality. Then the birth certificate will be updated and the change is final.
In case your birth certificate is not yet registered at the Hague Civil Registry, this will first have to be done by you, or you can apply to the court for a change of first name in the first name procedure.
By the way, even if you live abroad as a Dutch citizen, you can ask the Dutch court to change your first name.
What are the conditions for changing a first name?
In the Netherlands, you can choose your own first name. There is no mandatory list of names. The two main conditions for changing a first name are:
– the first name change must have a sufficiently compelling interest.
– the new first name should not be an inappropriate name or surname unless it is a common first name.
For example, someone can bear the first name "Mensje". The first name "Woman" is not allowed because it is a description of a capacity.
Can the first name of a child (under 18) be changed?
As a parent or guardian with joint or parental custody of your child, it is possible to request a change of a child's first name. It is also possible to add or delete one or more first names. This is regulated by law.
Based on article 1:4 of the Civil Code, the court may, at the request of the person wishing to amend the first name or at the request of its legal representative, amend a first name.
As a transgender person, how can I change my first name?
If you are transgender, you do not have to go to court if you want to change your first name.
You can arrange this directly with the municipality.
To do this, however, you will need a number of documents, including a statement from a doctor. This states that you have stated to this expert the belief that you belong to the opposite sex of what is stated on your birth certificate.
If you are under the age of 16, you can petition the court for a change of gender and a change of your first name through your parents or your guardian.
Can I change my last name or gender name?
It is possible to change your family name or surname.
Changing a surname is handled by Justis. Justis is the screening authority of the Ministry of Justice and Security in the field of integrity.
The request for a different surname is completed through the Justis application process. You are not required to hire an attorney at law to change your last name.
Can I change my first name as x-status?
Recently, Simmelink Law Firm has assisted several individuals in obtaining x-status. Since a request for a gender-neutral gender is almost always more appropriate than the current first name, the application for x-status is combined with a request to change a first name.
Would you like to read or save everything again, as a PDF?
Click the button below and the digital book will come to you.